---
Where Have The Profits Gone?
---
| | | | |
| --- | --- | --- | --- |
| | | | |
It is no secret that the US retail sector is in the midst of a seismic structural shift. 2017 was a particularly tough year for retailers, with dozens of bankruptcies, thousands of store closures and consumers that were increasingly more interested in buying experiences rather than things.
To tackle these challenges, traditional brick-and-mortar retailers have invested heavily in e-commerce and omni-channel capabilities to resuscitate their top lines. But even as they embrace change, these retailers continue to see their profit margins, and even profit dollars, decline.
Those investors who listen to retailer earnings calls (or read the transcripts) will have noticed a common theme – many retailers claim that their online sales are accretive to margins, or at least not dilutive. However, a recent Citi analysis of change in sales and change in net income between 2010 and 2017 has found that for many retailers, their net income dollars declined even as their sales increased. More interestingly, Citi found that once e-commerce sales drove more than 50 per cent of incremental sales since 2010, almost all retailers experienced a decline in net income dollars.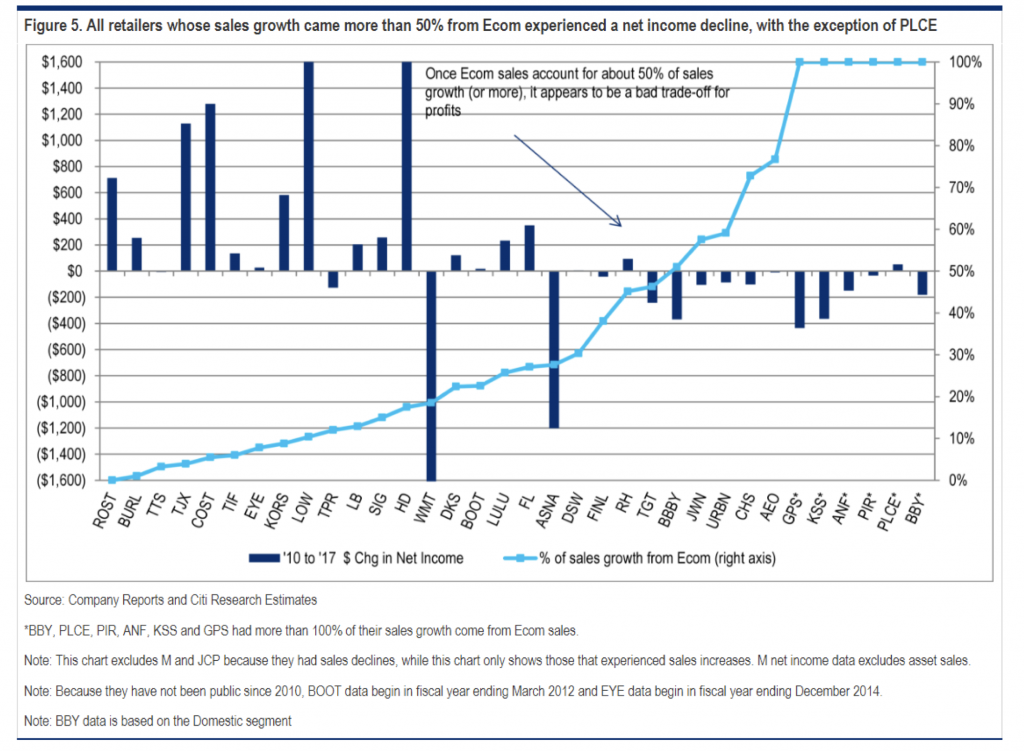 These outcomes suggest that there is more to managements' claims that online sales are profitable and accretive to margins. While it is entirely possible that an online sale taken on its own is accretive to overall company profit margins (typically impossible to verify as retailers don't report e-commerce sales and profits separately), this ignores the impact of store deleverage. An online sale that cannibalises a store sale is going to produce a negative impact on store profit margins given the higher fixed cost of operating a store (mainly rent and depreciation). Online sales also have less operating leverage – fulfillment centre costs might be fixed, but each incremental sale needs to be picked, packed and shipped, all of which are variable costs that increase in line with online sales.
The upshot of this analysis is that when brick-and-mortar retailers talk positively about e-commerce growth and profitability, investors should take these comments with a grain of salt. Even then, the interplay between online and store profitability is only half the problem. The other half – declining store traffic, greater pricing transparency, competition against pureplay e-commerce businesses, and heightened promotions – are here to stay and not so easily fixed by simply closing stores.
---
---
---
---