---
Who Gets Gold In The e-Commerce Olympics?
---
| | | | |
| --- | --- | --- | --- |
| | | | |
Do you know which country does the most online shopping? How does the US compare? Do you even know what proportion of shopping is done online in Australia? In today's memo I want to take the pulse of e-commerce across the globe given its becoming such a wonderful opportunity for some businesses, and such a disturbing threat for other businesses.

You would be forgiven for thinking that the US leads the world in e-commerce penetration. However, the country that brought us venture capital and Silicon Valley doesn't even make the medal podium in the e-commerce Olympics – coming in fourth with around $11 in every $100 of shopping spent online.
At the top of the charts is China, where around 17 per cent of retail sales now happen over the internet rather than in a traditional "brick-and-mortar" store. China leads from the UK (14 per cent of retail is online) and then South Korea (13 per cent e-commerce penetration), while Australia is in 7th place with just 7 per cent of sales taking place online today.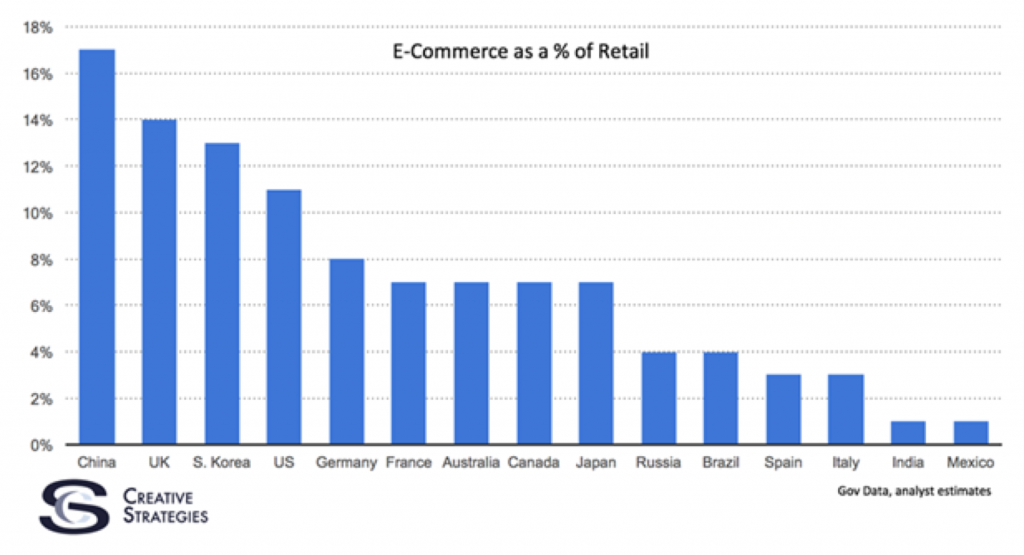 With the leading rate of e-commerce penetration combined with the world's second largest economy, China also takes the prize for the world's largest e-commerce market by total value of goods transacted. China's e-commerce market is about one trillion (with a "t") US dollars. This compares to a roughly $400 billion e-commerce market in the US.
Even more astounding is that despite a bigger market and higher penetration rate, e-commerce in China is growing quicker than in the US. Chinese online retail sales are increasing at a rate of about 30 per cent per annum, double the 15 per cent per annum growth in US online retail sales.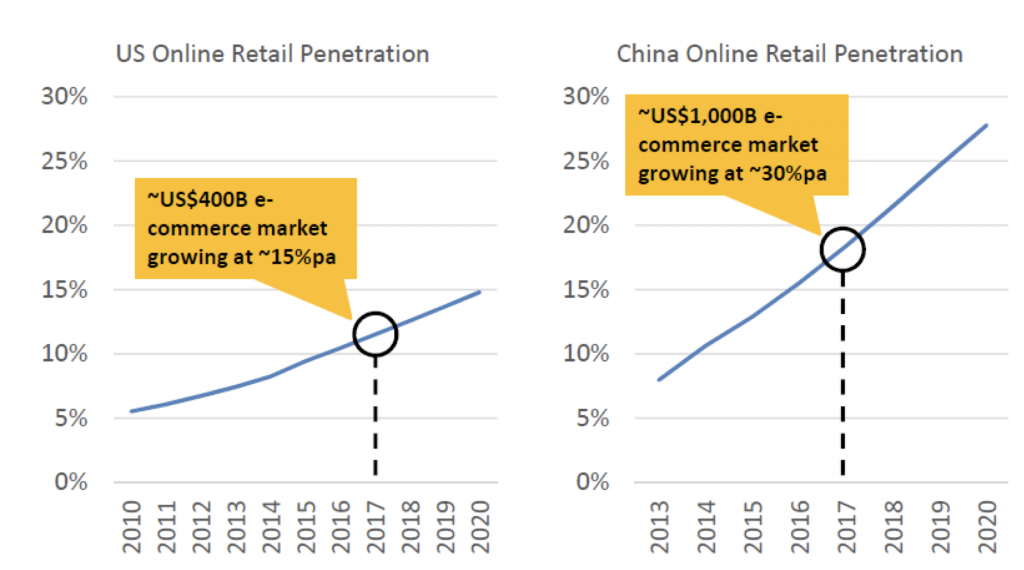 Source: US Department of Commerce; National Bureau of Statistics of China; Alibaba company documents
In the Montaka and Montgomery Global long portfolios we continue to be positively disposed to e-commerce winners in both China and the US. Additionally, in the Montaka fund we are selectively short the stocks of businesses that are losing ground to e-commerce competitors, from the US to Germany and even down here in Australia.
---
---
---
---