---
U.S. IT Spending Growth is Coming Back
---
| | | | |
| --- | --- | --- | --- |
| | | | |
For the last two decades, U.S. IT spending, as a percentage of total fixed investment, has been oscillating in a narrow range, no longer growing like it did over preceding decades. With stronger global GDP growth, and benefits from U.S. tax reform legislation, there is reason to believe that there could be a resurgence in U.S. IT spending.
As can be seen from the graph below, growth in IT spending as a percentage of capex has been stagnant for many years. While part of this reflects the mechanics of a transition to the cloud being made by many firms, which shifts capex to opex, there is the view held by many that firms have been underinvesting in IT, particularly if we consider the 20 years of range-bound IT spend as a percentage of business capex.
In recent years we have seen slower refresh cycles for PCs and mobile phones, which slows spending on devices. Another factor may be that as firms have pushed to invest in digital transformation initiatives, they have sought to fund these programs by reducing and optimising costs in other areas of the company's IT budget, resulting in slower total IT spending.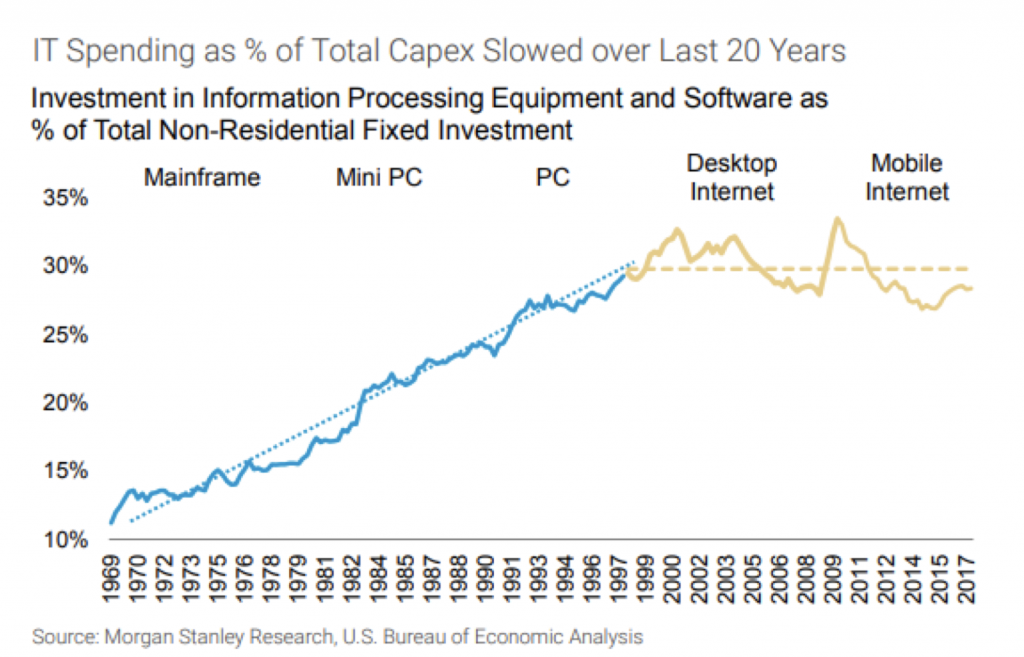 More recently, CIO expectations for US IT budget growth are starting to accelerate, and this is likely a reflection of synchronous global economic growth, the benefits of repatriated cash, and the desire of firms to take advantage of accelerated depreciation rules under the recent tax reforms. These factors appear to be combining to give businesses more confidence in making decisions around cloud workload migrations, which is contributing to stronger IT budget expectations. This is likely to create opportunities on the long side, but has also given the Montgomery Global team pause for IT software and hardware businesses that we were actively considering as short candidates, given that they would also benefit from this tailwind.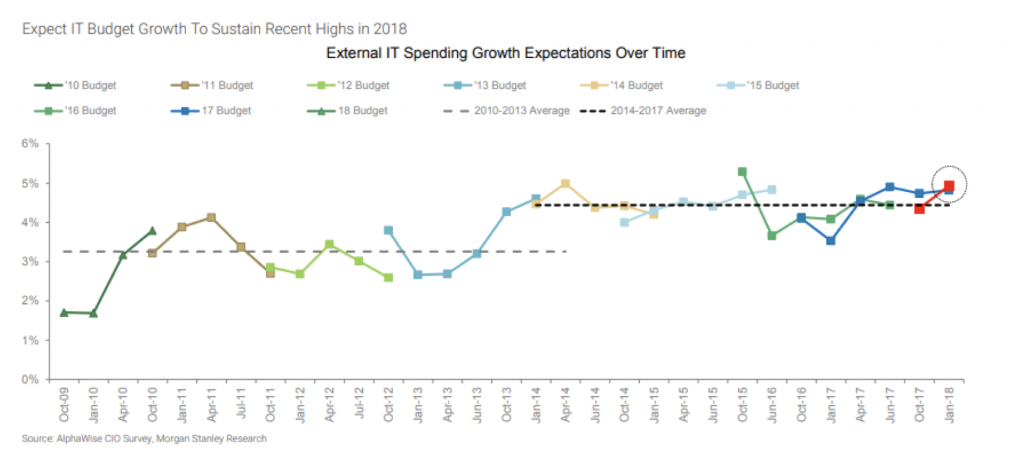 It's important to stay on top of these global trends when making investment decisions. No investment in a company is made in a vacuum, so investors must be cognisant of industry-level changes that could affect the growth prospects of those companies.
---
---
---
---