---
Advertisers Winning From The Royal Commission
---
| | | | |
| --- | --- | --- | --- |
| | | | |
Advertisers The Big Winners From The Banking Royal Commission
The Royal Commission into Misconduct in the Banking, Superannuation and Financial Services Industry is bad news for banks and other organisations that are being put under the microscope. But it's been a boon for advertisers, who have enjoyed a boost in ad spending as financial services businesses seek to prop up their brands.
One of the more profitable ways to invest can be in thinking about the second order effects of material events that impact a company or sector. This is because the market generally reacts quickly in repricing stocks that are directly impacted by announcements, while second (and third, fourth etc) order effects can flow through more slowly to share prices.
A fairly simple example of a second order impact, albeit one that does not necessarily provide an investment case in its own right, is a flow-on impact from the Royal Commission into the banking industry.
The inevitable impact of the Royal Commission on the public's perception of the banks has seen these companies launch a pre-emptive investment in brand equity through a material step-up in advertising spend.
The banks were already a significant source of advertising revenue for media companies, generally ranking comfortably in the top 10 sources of dollars each year. However, in the first two months of 2018, the banks have increased their spend by between 20 and 30 per cent relative to the prior year according to the industry data published by Morgan Stanley's media research team. This compares to low single digit growth in advertising spend across the overall media market.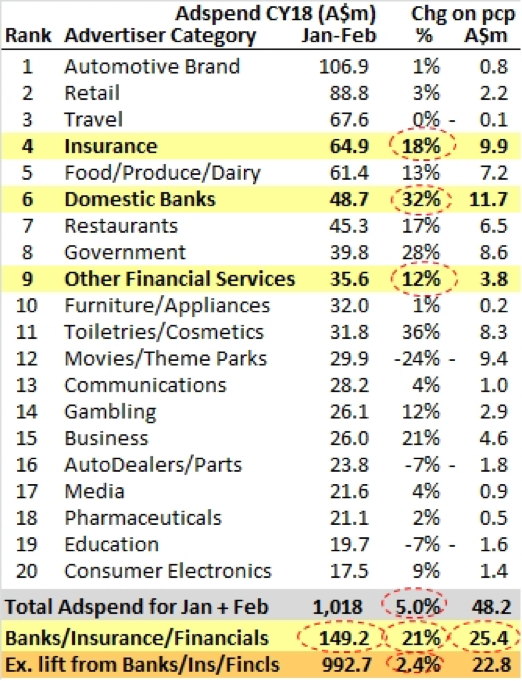 Source: SMI, Morgan Stanley
Additionally, the types of media favoured by the banks are skewed toward television and outdoor when compared to the broader market. As such, media companies in these segments will receive a disproportionate benefit.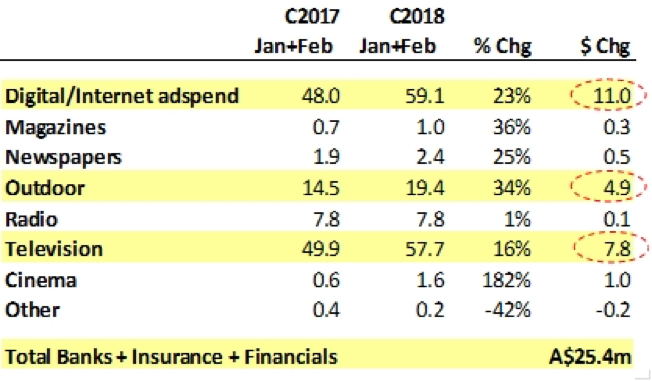 Source: SMI, Morgan Stanley
The most noticeable difference between the split of spend by the banks and the broader market is in outdoor media. The numbers above indicate that around 13 per cent of the advertising spend by the banks in the first two months of 2018 went into outdoor advertising. In 2017, around 14 per cent of the overall advertising spend by the banks went to outdoor media companies. This compares to around 6 per cent of overall advertising market spend across Australia that went to outdoor advertisers in 2017.
If we look at the outdoor advertising industry revenue data for the March quarter of 2018 released recently by the Outdoor Media Association (OMA), it shows an improvement in the rate of growth relative to the year-on-year growth generated in 2017.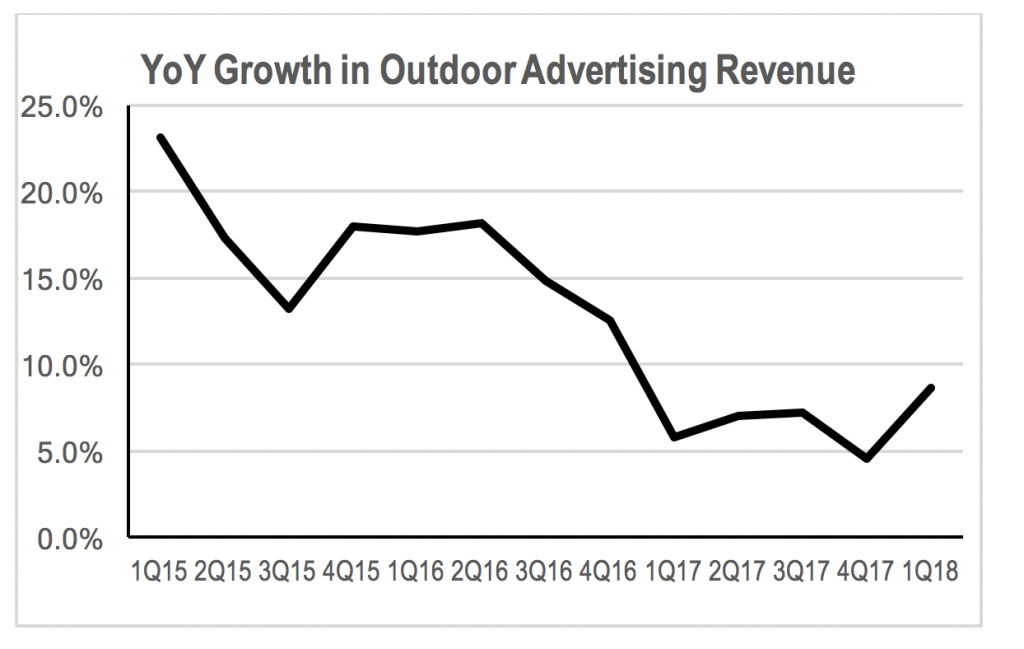 Source: OMA
Now of course this does not represent a permanent benefit for the media industry, unless you are of the opinion that politicians will resort to an- open-ended Royal Commission into the banks in a desperate attempt to distract the electorate from their own performance. However, it provides an example of a secondary impact from an event that impacts another industry.
---
---
---
---