---
The Decline Of The Overpriced Consumer Brand?
---
| | | | |
| --- | --- | --- | --- |
| | | | |
Global consumer packaged goods (CPG) companies have long leveraged their brand recognition to pursue an indiscriminate, pricing-driven growth strategy. Robust top line growth was all but certain through a mix of population growth and ever-higher prices, and cost reduction programs would drive even faster margin expansion to the benefit of the companies' shareholders if not their consumers.
Today, however, these CPG giants are reaping what they've sown, as consumers increasingly turn away from overpriced branded products and retailers push deeper into lower priced, better value private labels.
The decline of the overpriced consumer brand is a theme that the Montgomery Global team has leaned into since last year in our long/short strategies. The global CPG companies are currently facing a confluence of headwinds, ranging from weak inflation in key developed markets, to the rise of Amazon and other retailers' private labels, to the acceleration of online shopping which has made prices more transparent and discounting more prevalent. Many of these trends are still in the early stages of development, and the CPG companies potentially face a years-long challenge to adapt to changing consumer preferences.
Last week, several of the world's biggest consumer brands reported weak results for the first three months of 2018 as they struggled to raise prices in a deflationary environment. Proctor & Gamble reported that prices fell 2 per cent across its businesses in the first quarter, led by its Gillette shaving brand. Gillette in many ways is the post child of both the rise and the fall of the overpriced consumer brand. In its heyday, Gillette dominated the shaving business through its strategy of basically giving away the razor stick for free and charging consumers a full price for the razors. Incremental innovations led to consistent price increases every year, until Gillette's overearning directly gave rise to low-cost rivals such as the Dollar Shave Club. Gillette has spent much of the last year slashing its prices.
CPG peers Unilever and Nestle reported price increases of only 0.1% and 0.2%, the lowest rates of pricing growth since 2010 and 2000, respectively, according to Bernstein analysts. The large consumer brands have been especially affected by the rising penetration of private labels, not only at the national retailers they wholesale to, but also from hard discounters such as Aldi and Lidl that have been gaining share outside of their legacy European markets. The retailers themselves have been largely forced into private label by the likes of Amazon in order to support their own operating margins, which have come under pressure as well in recent years.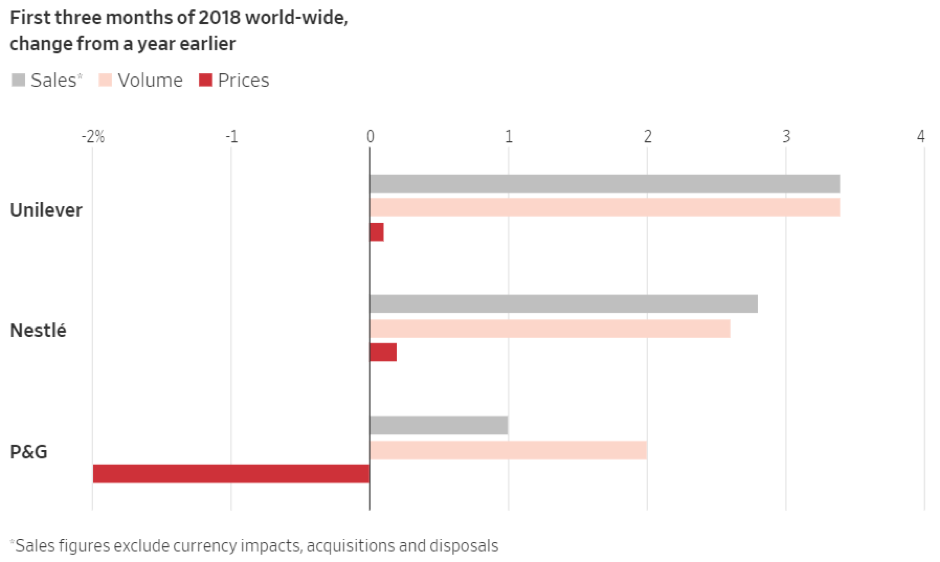 Source: The Wall Street Journal
What has become increasingly clear to shareholders is that these companies must increasingly rely on volume growth rather than pricing to grow their top line. However, for companies that have over decades become accustomed to raising prices every year, finding volume growth will come at a cost. Following the merger of Kraft Heinz in 2015 orchestrated by Warren Buffett and Brazilian consumer private equity specialists 3G Capital, other CPG companies have spent the last three years slashing costs to make themselves less attractive targets, presumably on the assumption that the pricing lever (which is "free") would always be available for them to pull. P&G CEO David Taylor perhaps summed it up best when he said, "Changes must be made, and the cost structure demands are real…What we anticipated is not sufficient. We need to do more."
The Montaka strategies are short the shares of Kraft Heinz (Nasdaq: KHC)
---
---
---
---