---
Right Place, Right Time
---
| | | | |
| --- | --- | --- | --- |
| | | | |
"The key to success is being in the right place at the right time, recognizing that you are there, and taking action!" – Ray Kroc
Last week we had the pleasure of sitting down with some of Montgomery Global's friends and clients in (a very sunny) Melbourne to discuss how we maximize the chance of investing success: it all comes down to being in the right place at the right time. But what does this mean?
When we think about being in the right place we mean identifying fundamental drivers to which a business is positively exposed. In other words, we look for businesses that have favourable operating conditions. This may be due to industry tailwinds, geographic boons, technological innovation, demographic change, macro policies, the economic environment and more.
When we think about the right time we mean finding businesses whose stocks are "mispriced". In our parlance, these stocks have expectations built into their share prices that are far too conservative compared to our view of the quality and prospects of the business – in short, they are cheap!
We believe investing in businesses that are in the right place, and in their stocks at the right time, gives the best chance of investment success. Let's take a quick look at how we conceptualise this in the two-by-two grid below.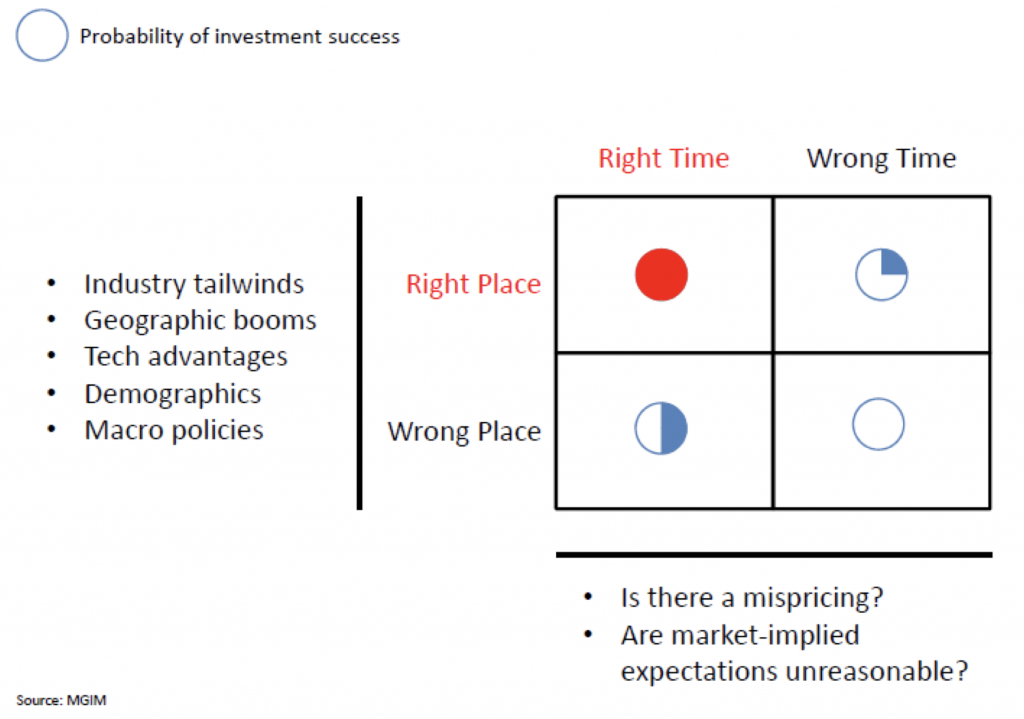 The bottom right quadrant shows an investment in the wrong place at the wrong time. We think this means a manager is in the wrong business. For all intents and purposes there is no chance of success in this case.
The top right quadrant is an interesting combination of right place, but wrong time. Perhaps counterintuitively, investing in a wonderful theme regardless of price is likely to yield poor investment returns. Notwithstanding exciting growth opportunities for the business, over-paying for a stock can lead to a fall in the share price when high expectations are not met (we will come back to this with a fun example in a later post).
On the other hand, being in the wrong place at the right time actually improves the chance of realising a profitable investment. This is the bottom left quadrant. Even if the backdrop is negative, if all the bad news has led to a very cheap stock price, then it only takes a spark of good news (or good results) to create investment fireworks.
The best combination, however, is the represented by the red dot in the top left quadrant: the conditions are ripe for the business to succeed, and the stock is cheap, so the share price can significantly outperform. This is investing Nirvana for us at Montgomery Global. It is what we strive for each and every day of the week – twice on Sundays – and it has been key to the success of Montgomery Global since we launched our funds in July 2015.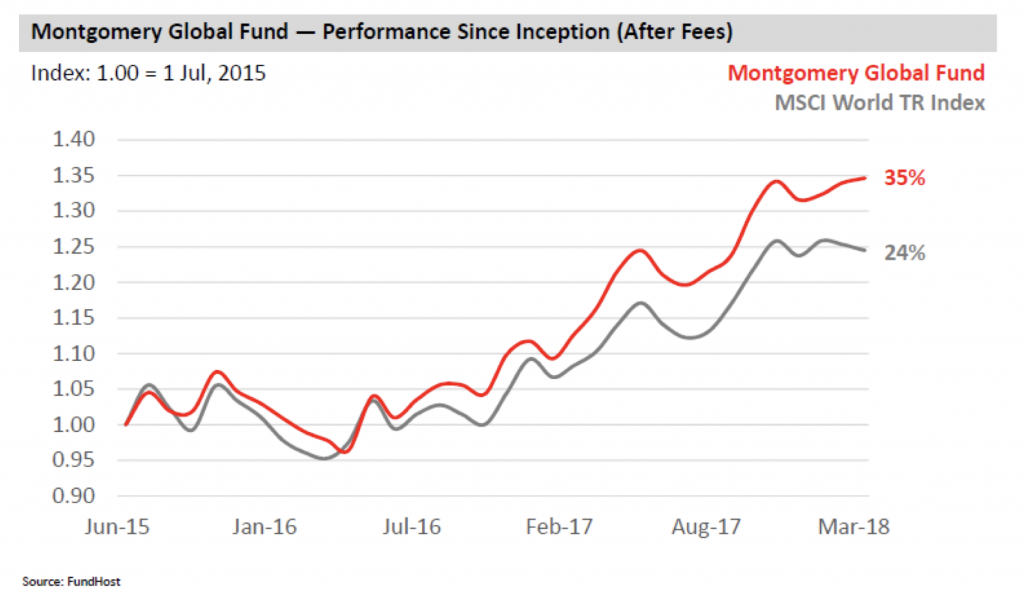 The Montgomery Global Fund strategy (performance shown above) can be accessed by clients in unlisted managed fund form through the Montgomery Global Fund by clicking here or exchange-traded managed fund form through the ASX-listed Montgomery Global Equities Fund (the ticker is MOGL and is found here.)
---
---
---
---